Bainbridge Island Drum & Percussion Teachers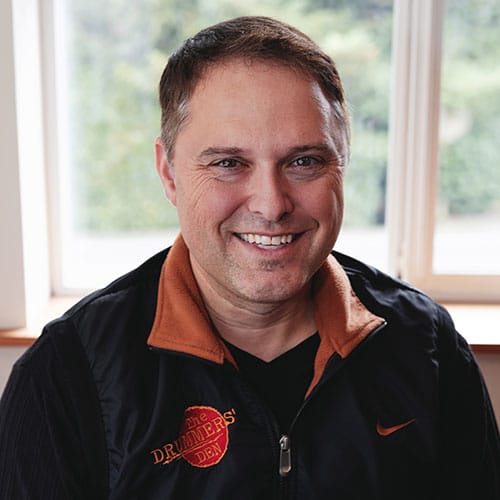 Terry is well known in the Puget Sound music community and is considered a top tier musician and educator.
His percussion program "The Drummers Den" is ranked among the elite nationally and consistently produces award-winning
students and groups.

Terry got his musical start in the Seattle Cascades Drum and Bugle Corps. He finished his percussion performance degree at Washington State University in 1997. He then won an audition with the prestigious Air Force Band of Liberty in Boston, Massachusetts. While in Boston, Marsh was a regular with many local jazz and rock bands. He and his wife Tracie, were members of the New Hampshire Philharmonic Orchestra. From 2001 to 2005, Terry and Tracie toured the world on board cruise ships. Being members of theatre show bands, the couple backed up numerous performers and entertainers.

Moving to Poulsbo in 2005, Terry created the Drummers Den Music studio which offers a variety of drumming experiences for all ages. The program has produced 15 state champions and has helped many students move onto college-level music programs. Currently, Mr. Marsh is a professional working musician as well as a great educator. He is a member of "Soul Siren", Jazz Canvas Productions, The Tracie Marsh Band, and performs an average of 120 shows a year.